Wage Control
Wage Control by 1834 Hotels
Wage and employment cost control is absolutely critical to your business.  Hotels, motels, apartments and resorts must control and effectively manage their wages & rosters to ensure profitably. Often a Manager just doesn't have the ability to effectively execute a strategic rostering system and reduce overall employment expenses. This is where we shine.
How will we reduce your Wages?
Through our business intelligence system, 1834 Hotels tracks all employment LIVE and these wage costs are weighted against live sales to provide reporting with clear and precise percentages. We identify , react and manage on a daily basis. We will not wait till the end of month to realise we needed to make changes, we make them daily. The constant management of wages from accurate reports within hospitality businesses is make or break for profitability.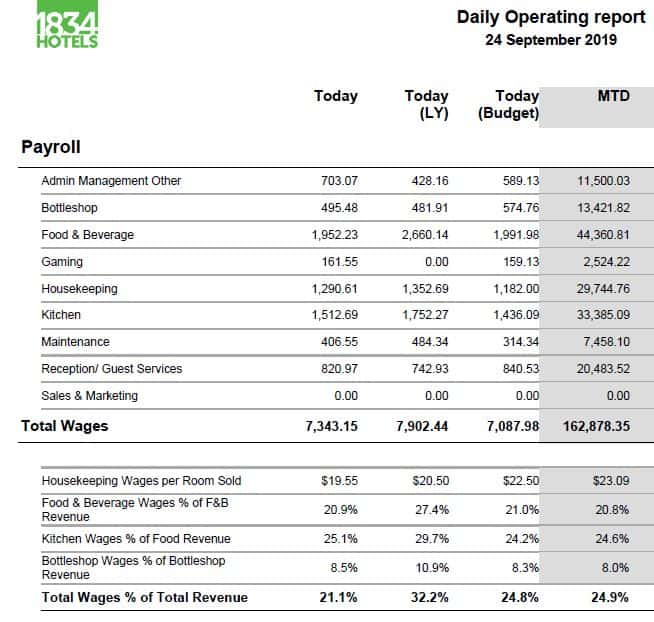 Hotel Rosters
We offer a digital wage control system that is cost effective, award accurate, easy to set up and works with any pay system solves all the common issues associated with data entry, award interpretation and employee rostering. With the ability to track wage expenses against specific jobs, job costing is simplified. Fingerprint bio-metrics and analysis ensure accurate attendance records and correct award payments.
Increased efficiencies, reduced inaccuracies
1834's wage control system gives the hotel business back the liquid gold of management – time. With less time spent on data entry, roster preparation and payroll reports, there's more time for managers to devote to running the business. Automated time sheet control eliminates honest mistakes associated with manual input and reduces the number of steps involved in the process (employer, supervisor, manager and payroll staff).
Who's managing the manager?
1834 Hotels will recruit and manage your Manager, we will ensure we have the right person in the right job for the right price. We will give the manager every possible solution to better the property's performance.
Summary:
1834 Hotels will reduce and better manage wages
1834 Hotels has a business intelligence tool collating live wage/sales data
1834 Hotels provides a digital and accurate rostering solution
1834 Hotels will manage the Manager