1834 Hotels Selected as New Hotel Management Company for Atrium Hotel Mandurah in WA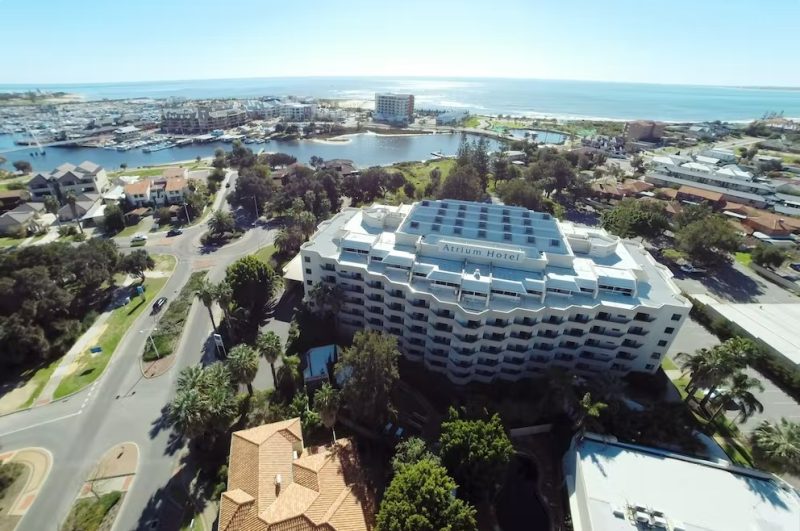 1834 Hotels Selected as New Hotel Management Company for Atrium Hotel Mandurah in WA
09/05/23 – Atrium Hotel Mandurah, one of Western Australia's premier hospitality destinations, is pleased to announce its partnership with 1834 Hotels, an esteemed hotel management company renowned for its expertise and commitment to excellence. This exciting collaboration marks a significant milestone for Atrium Hotel Mandurah as it seeks to enhance its guest experience and solidify its position as a leading hotel in the region.
Under this new management agreement, 1834 Hotels will bring its extensive industry knowledge and innovative management tools to elevate the hotel's operations, service standards, and overall performance. With a proven track record of successful hotel management across Australia, 1834 Hotels will spearhead efforts to further develop Atrium Hotel Mandurah's reputation as a destination of choice for business and leisure travelers alike.
Andrew Bullock, the CEO of 1834 Hotels, expressed enthusiasm about the partnership, stating, "We are thrilled to be selected as the hotel management company for Atrium Hotel Mandurah. Our team is committed to delivering exceptional guest experiences and achieving operational excellence. With our comprehensive management tools and expertise, we aim to unlock the hotel's full potential and exceed the expectations of our valued guests."
This strategic collaboration between Atrium Hotel Mandurah and 1834 Hotels presents exciting opportunities for both parties. Leveraging 1834 Hotels' extensive network and market insights, Atrium Hotel Mandurah will gain access to a broader customer base and targeted marketing strategies, ensuring increased visibility and occupancy rates. Additionally, guests can look forward to enhanced amenities, personalized services, and an elevated level of hospitality that reflects 1834 Hotels' commitment to excellence.
The management tools employed by 1834 Hotels will revolutionize Atrium Hotel Mandurah's operations, allowing for streamlined processes and optimized resource allocation. Through the implementation of advanced technology solutions, staff training programs, and a strong focus on customer satisfaction, 1834 Hotels will foster an environment that promotes employee growth and enhances the overall guest experience.
With the collective vision to create a distinctive and memorable stay for every guest, the partnership between Atrium Hotel Mandurah and 1834 Hotels is poised to reshape the hospitality landscape in Western Australia. Together, they are committed to upholding the highest standards of service, delivering exceptional value, and positioning Atrium Hotel Mandurah as a premier destination for discerning travelers.
About Atrium Hotel Mandurah: Atrium Hotel Mandurah is an acclaimed hotel located in Western Australia, renowned for its picturesque waterfront location, modern amenities, and exceptional service. With its range of accommodation options, extensive event facilities, and commitment to guest satisfaction.
About 1834 Hotels: 1834 Hotels is a leading hotel management company specializing in delivering outstanding guest experiences across a diverse portfolio of properties. With a passion for excellence and a commitment to operational efficiency, 1834 Hotels combines innovative management tools, personalized services, and industry expertise to maximize the potential of each hotel under its care.