How the Angus & Co. Bar & Grill brand transformed a hotel
Hotel restaurants, hard work!
With an endless to-do list, hotel managers and hotel owners see themselves managing costs, training and supervising and keeping staff, handling customer expectations, taking care of the books, marketing their business, keeping up with health and safety legislation – the list goes on and on…
And just to add to the complexity of a hotel manager's role, the day-to-day running a hotel's onsite restaurant can add to this ever-growing to-do list. With new menus to approve , ensure their costed effectively , daily orders to approve, deliveries to accept and costs to monitor, the restaurant side of your business can be extremely demanding and if not well managed an area of the business where you will lose money! Even if top line sales are good, the bottom-line is often not great.
Restaurants make up a notoriously tricky part of hotel operation, requiring a very specific set of skills and understanding. Unfortunately, a lack of these things can result in costing your business not only precious time but also a lot of money. Some hotels see their F&B dragging down the financial success and reputation of what is otherwise a thriving accommodation business.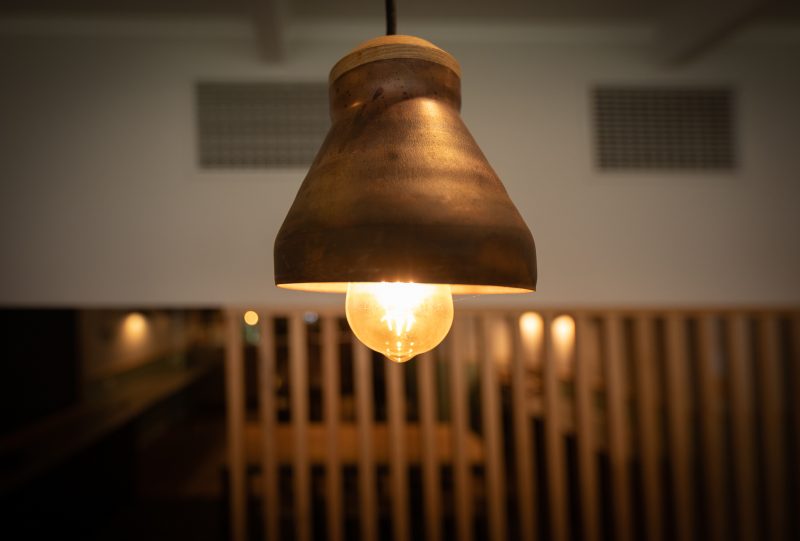 The solution
So wouldn't it be great if as a hotel manager/owner, you were able to focus more of your time on your rooms, customers and other aspects of hotel operations, whilst your restaurant not only took care of itself but actually prospered financially?
Although this sounds entirely unrealistic, 1834 Hotels has successfully implemented one particular strategy at a handful of hotels which has allowed for this to become a reality. This solution has come in the form of crafting a high-performing restaurant brand, which can be effectively integrated into hotel businesses across Australia.
The brand – Angus & Co Bar & Grill. – has been developed strategically by 1834 Hotels to help a number of resorts, motels and hotels lift their onsite food and beverage operations from 'quiet hotel dining', to 'popular local restaurant' in a matter of months. In the next section, we explain just how this works.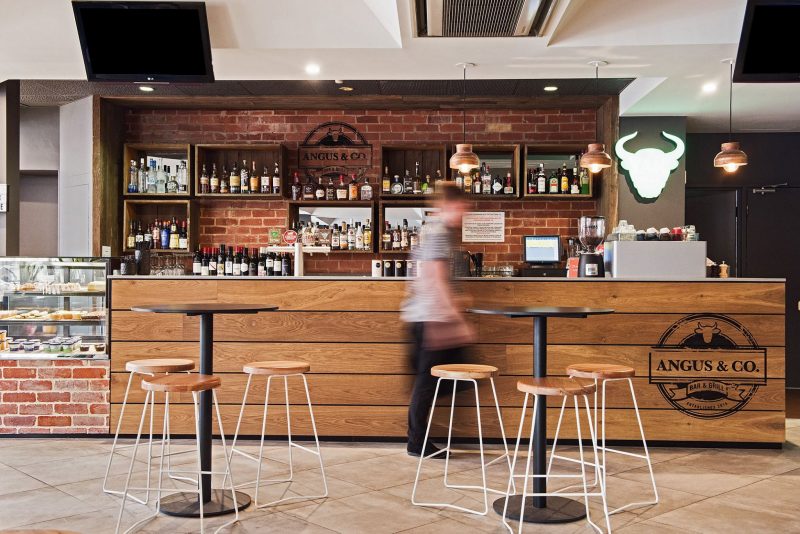 What is Angus & Co.?
Angus & Co Bar & Grill. is a food and beverage brand created by 1834 Hotels which provides resorts, motels and hotels with a proven and structured food and beverage solution. If your accommodation business currently struggles with food and beverage operations, Angus&Co. was created as a way for you to run a lucrative restaurant, with the difficult stuff taken care of.
Angus&Co. can be considered an urban steakhouse; one which aligns well with various audiences. The sleek and inviting interiors that complement each Angus&Co. restaurant, combined with a quality menu built upon fresh steaks, seafood, burgers, ribs and salads, makes for an approachable, family-friendly dining experience.
Those hotels which choose to go ahead with the integration of an Angus&Co. in their hotel, can see a turnaround in eight to twelve weeks. But how exactly does this work and how exactly will an Angus&Co. help your restaurant?
1834 Hotels – having already taken a number of underperforming hotel eateries and transforming them into aesthetically pleasing and inviting Angus&Co. restaurants – is best placed to help your business with its F&B operations. Following the agreement, 1834 Hotels takes care of the whole process for hotels, including the planning, costing and transformation of the space. On top of this, after the fit-out, managers are left with not only a brand new restaurant, but new systems, structured menus and an array of useful information and guidance for day-to-day operations. In the next section, we share more.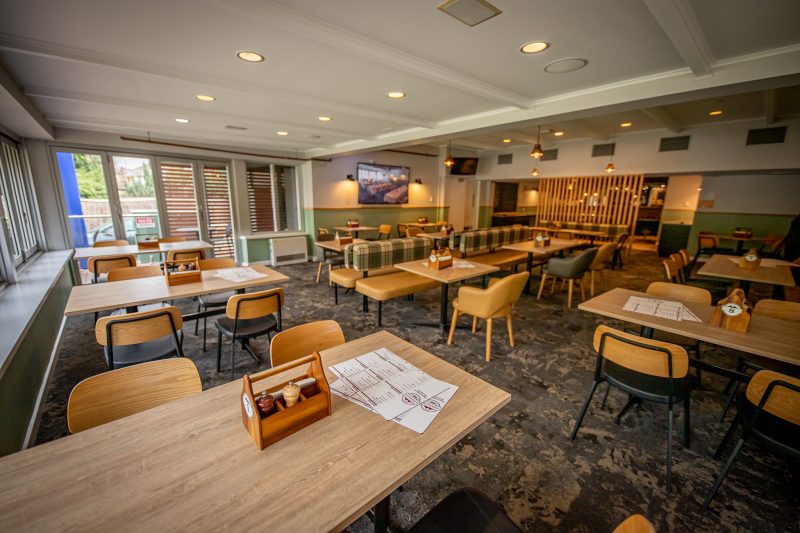 How does it work?
Designed as a way to help busy hotels organise, streamline and optimise the food and beverage arms of their hotels, Angus&Co. drives sales, controls costs and extracts optimal profit. The marketing, monitoring and management of your hotel restaurant with Angus&Co. are three things you no longer have to worry about or waste time on.
Walking away from your old restaurant concept and choosing to work with Angus&Co., guesswork becomes a thing of the past and purposeful decision making has been made for you. Where previously you may have felt as though you had little control over your restaurant, Angus&Co. uses:
Proven techniques,
integrated systems,
better pricing and
consistency in food and beverage service.
Essentially, with all the necessary systems and best practices already in place, the Angus&Co. brand – already established and high-performing in different locations in Australia – helps hotels to cut costs and streamline time-consuming tasks. Put simply, the reason Angus&Co. works so well for hotel restaurants is because it has access to:
Menu designed by a  group executive chef
Full recipes and guidelines that include everything down to presentation.
All dishes provided with costing templates, full menu costing
A point of sale system option with support and setup.
Great pricing with national suppliers due to bulk buying.
Operational support documents.
Help with cost control.
Live sales reporting systems.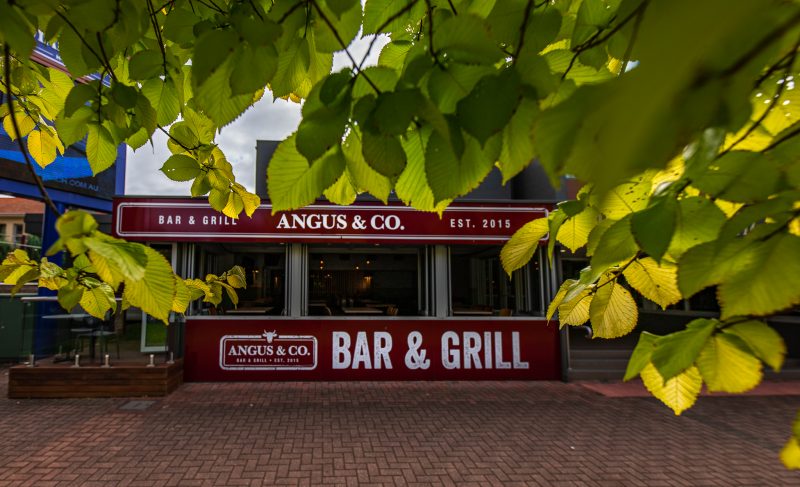 Is Angus&Co. right for my hotel?
In general, Angus&Co. is a brand that has been found to be very marketable, and well received by a broad demographic. Comfortable interiors, an approachable atmosphere and a tempting menu at this modern steakhouse make Angus&Co. restaurants feel welcoming for just about everyone.
Food and beverage offerings are also widely enjoyed, with classics such as steaks, burgers, salads and seafood pervading on the menu. Those worried about a lack of seasonality or uniqueness need not be concerned either. Menus are updated seasonally and built around food trends, meanwhile a great selection of quality wines, beers and other drinks are available.
The 'food bible'
Not only does Angus&Co. take away the tiresome work of designing seasonal menus, costing, produce testing and recipe perfecting after menus are set, extra help is always provided. A plethora of necessary documents in the form of a food "bible" will be provided to teams upon the finishing of a hotel's Angus&Co. restaurant in order to help them stay on track. This helpful guide contains recipes, photos & videos, COGS and cooking instructions, expertly aligned with preferred supplier pricing.
Below, we provide a short case study of one success story, to help you understand the potential extent of working with 1834 Hotels.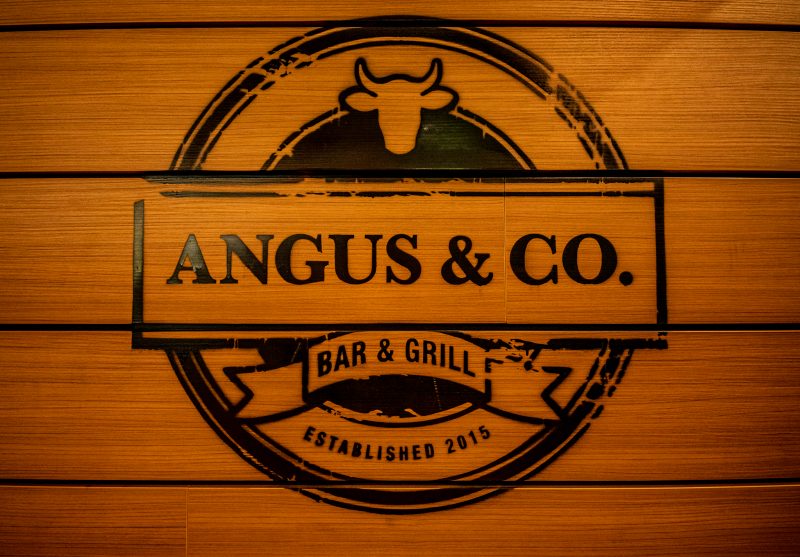 Case study: John Pirie Motor Inn
Context
Port Pirie in South Australia is a small city of 17,364 people (2016 census) located two and a half hours drive north of Adelaide. Inside the city the John Pirie Motor Inn – a 3.5 star motel – is a locally known accommodation for corporate guests during the week and with weekend trade consisting of free independent travellers and those visiting friends and family.
Before choosing Angus&Co., the food and beverage arm of John Pirie Inn saw no local trade, had no brand or clear identity and catered only for in house guests.
Integrating Angus&Co.
In Port Pirie, 1834 Hotels identified the opportunity for an urban steakhouse brand and after a review of the market this became more evident. By implementing Angus&Co. in Port Pirie, John Pirie Motor Inn would see better outcomes for its restaurant. 
Fitting out an Angus&Co. restaurant at the John Pirie Motor Inn cost approximately $80,000, including but not limited to new bar works, new carpet, paint and lighting, new Angus&Co. external signs, a targeted digital marketing campaign and flyer drop. 
The positive performance of Angus&Co. was evident from the start, showing outstanding results that have continued into 2021. As a regional hotel, the outcome of Angus&Co. was hugely significant and aside from its financial improvement, the venue is now a 'go-to' restaurant for dining in the area.
The numbers
In the year after opening, an analysis was carried out comparing the years 2016/2017 (before Angus&Co.) and 2017/2018. A stark difference in revenue was seen in the later year, with April for example yielding 241% more revenue compared to April in the previous year when the restaurant was unbranded. The following shows the average increase in revenue for the new Angus&Co. restaurant.
Increase in revenue from food: 91%
Increase in revenue from beverages: 93%
1834 Hotels
If your hotel business struggles with underperforming food and beverage operations, 1834 Hotels is well-placed to help you on your way to success. The Angus&Co brand was solely created to provide a commercially structured food and beverage solution for hotels, motels and resorts. 1834 Hotels provides the Angus & Co. platform at no extra charge to hotels under our management. 
To contact us about Angus&Co., please click here.